Hi Mariposa Design

What better month to cozy up your bedroom than February! 

We have an inventory of Quilt Sets on hand in the shoppe and happy to offer them on sale for 25% off.  Susan will be available to assist you (by phone or messaging) with a selection of size, colour & pattern.  We want to be sure you receive what you need and like, in order to avoid returns during the pandemic.
Susan has decided to bring back Curbside Pick-up in February so that our amazing customers can participate in the exciting 'SHOW YOUR LOVE FOR PERTH' campaign from our Downtown Heritage Perth BIA.
For the month of February, for every $10 purchase from a downtown business, you will have a chance to win a $50 BIA Gift Certificate. There will be four winners drawn each week for the MONTH OF FEBRUARY. When you make a purchase at Mariposa Design, we will assist you with the details and ensure you are entered into the draws accordingly. ALSO, when you make a purchase at Mariposa Design in the month of February, you will be entered into our draw for a prize too!! Our draw will be held on March 1st. Thank you for continuing to 'show the love' for our small, local, family-run businesses! It is greatly appreciated!!
Until we are given the green light to re-open our bricks & mortar shoppe, we will be available for safe, curbside pickup at 32 Gore Street East in Perth.
Our regular Curbside Pickup Hours are:
Monday 10 am to 4 pm.
Tuesday 10 am to 4 pm.
Wednesday 1 pm to 4 pm.
Thursday 1 pm to 4 pm.
Friday 10 am to 1 pm.
Other times can be arranged to suit your schedule.
Contact Susan by:
Email: susan@mariposadesign.ca
Messenger from our Facebook Business Page – www.facebook.com/mariposadesign.perth
Or by calling 613-267-3838.
Stay Cozy & Safe Everyone!!!
Update – Cardinal Messenger
We are delighted to announce our 2020 donation to the G.W.M. Hospital Foundation was once again $2500. Thank you so much to everyone who purchased a Cardinal Messenger last year!! The Cardinal Messenger is on order and will be available for purchase approx. March 1st. We will be carrying them all year long again this year and we'll be donating proceeds once again to the hospital foundation.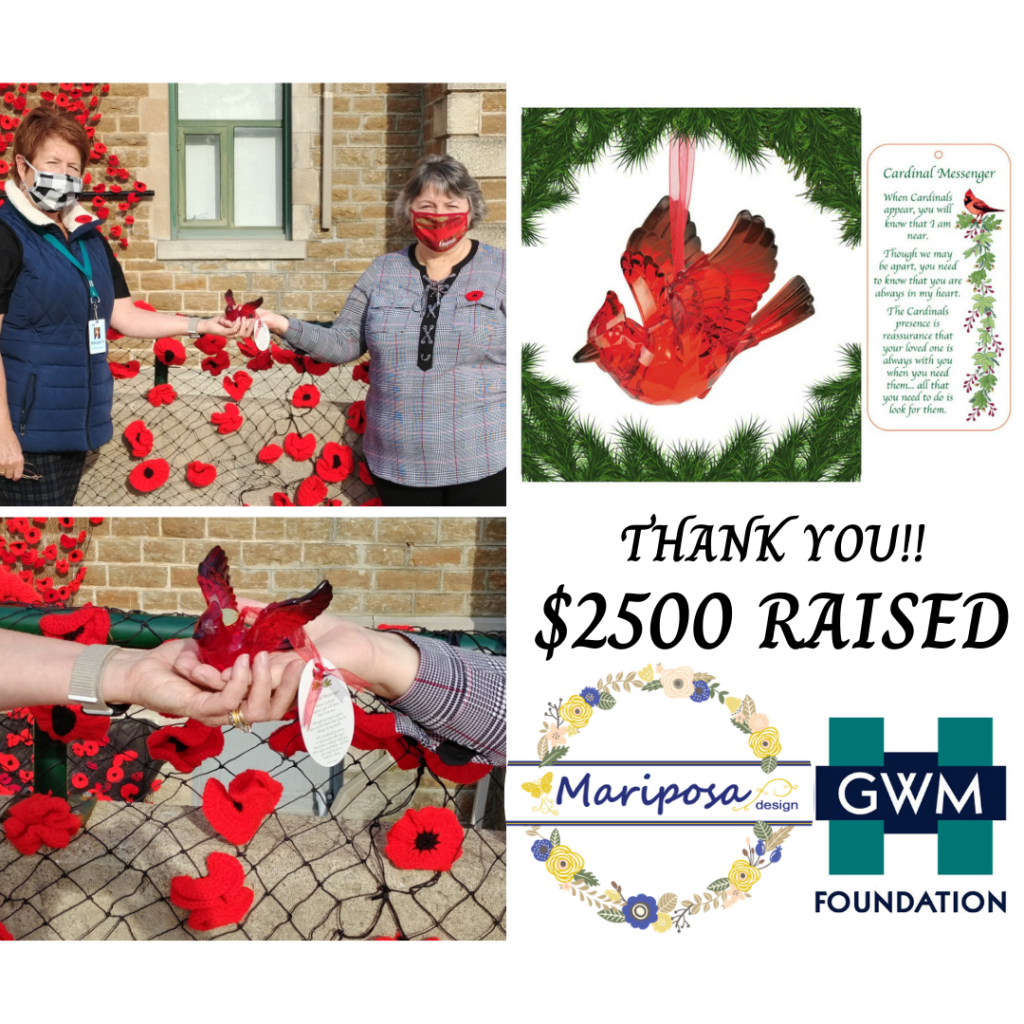 Valentine's Day Gifts
While we are currently under lockdown, you can still shop our array of unique & beautiful gifts…  whether it is by browsing our Facebook or Instagram photos online OR perhaps browsing our Shoppe Windows the good 'ol fashion way, just message or call and Susan will be happy to assist you…