Happy New Year to our Friends & Followers!! Let's start this new year off with…..
 Our January White Sale!
Who remembers the days of "white sales" in department stores? I believe some still have these sales! The name white sale originated because linens for the home at one time were all white, and they used to use bleach to launder them.
Today the array of colour for home textiles is endless!
For the month of January, our 'in shoppe' stock of linens & textiles for the home is on sale ~ 20 % off! Yes, that means all textiles for Kitchen, Bed & Bath ~ including accent cushions and floor & bath mats! While supplies last ~ all sales final.
January is the perfect time for refreshing your home and linens. You will love the sense of calm it will bring to both you and your home. I always use this time following the holidays to refresh my linens! Consider donating your tired bed sheets, towels, etc. to an animal shelter – they are always looking for some!! If you are in the refresh mode, this sale is for you!
A decluttering tip for January… while you are taking down and putting away your Christmas decorations, take stock of what you have! You may find you had a number of items that you didn't use and perhaps as you take down your decorations, you find that some of them may need to be replaced too. (maybe you have been shopping the Christmas sales – wink, wink 🙂 ) Here is my suggestion… pack up the items that you know you will not use again and label them for donation to your local thrift shop – they will be all ready to donate at the start of the 2022 season!
January is Alzheimer's Awareness Month 
– a cause near & dear to my heart! 
At Mariposa Design this month, you can make a donation and place a blue forget-me-knot on our storefront window – let's fill the windows!!  We will also have a display of information in our shoppe.  
I reached out to our local society in order to include some information here in my newsletter.  I feel it is important to try and put this information out there as much as possible.  Thank you for reading and oh, feel free to forward my email to your friends & family!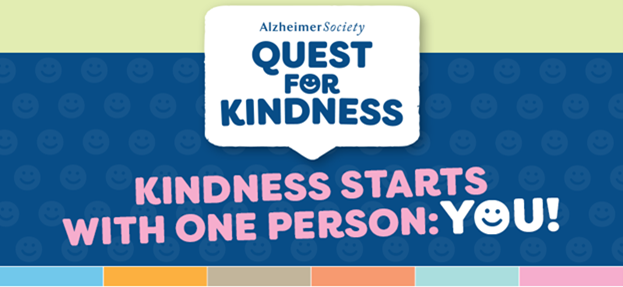 Quest for Kindness
The Quest for Kindness is a month-long, online event that encourages you to make kind-nections in your community, at home, with the environment, and more, in support of people living with dementia in your community.
From January 1 to 29, we're challenging you to make 30 kind-nections by completing a series of acts of kindness all while raising funds to support crucial Alzheimer Society programs and services those impacted by dementia rely on. Our fundraising goal? 1 MILLION DOLLARS.
Your activities will range from ones you can complete at home, within your community, or with your friends and family. You will be able to choose which acts of kindness you'd like to do and when to do them throughout the month—no pressure! The best part? Every time you complete an act of kindness, it will appear on our Kind-nections Map and you will help your community light up with kindness in support of people living with dementia.
Why Kindness?
Because people living with dementia feel alone, out of touch with their community, and isolated. Especially now, it's more important than ever to fight the stigma that surrounds Alzheimer's disease and dementia by creating a more welcoming, accepting, and understanding community.

A diagnosis of dementia is not easy. Making a quick connection to a community of support can make a big difference by eliminating uncertainty and unknowns. If there's one key message to share with all Canadians, it is that First Link® should be their first connection.
Concern and anxiousness are common after diagnosis, but Alzheimer Society is here to help with our First Link®.
We are your First Link® as soon as possible after diagnosis. We can help with answers, experience, information, referrals and more. Make First Link® your first thought.
As your First Link® we are a resource for people recently diagnosed with dementia. We can help.
A diagnosis of dementia doesn't mean you are suddenly no longer you.
Progression of the disease is different for each individual and a diagnosis doesn't mean that the person will fast-forward to the later stages overnight.
It's possible to live well with dementia for a good period of time. Even as the disease progresses, many people continue to lead active lives enjoying hobbies, activities, and friendships. Dementia will make these things more difficult as time goes on, but with the right support, people with dementia can still enjoy life.
 
The Alzheimer Society Lanark Leeds Grenville provides programs and support services to help people living with all forms of dementia, including the most common type of dementia, Alzheimer's disease
 
We also provide caregivers and families with information, education and resources to help them support the person in their care who is living with dementia
The sooner you call, the sooner we can help. Waiting till you feel up to it, or have done some research, or talked to friends, only delays the reassurance and support we can provide. For understanding, care, and access to our well-developed network of dementia-care services, we are your First Link®.
Call Anne Rodger, First Link Care Navigator at 866-576-8556 ext 105 or email arodger@alzllg.ca
Website www.alzheimer.ca/llg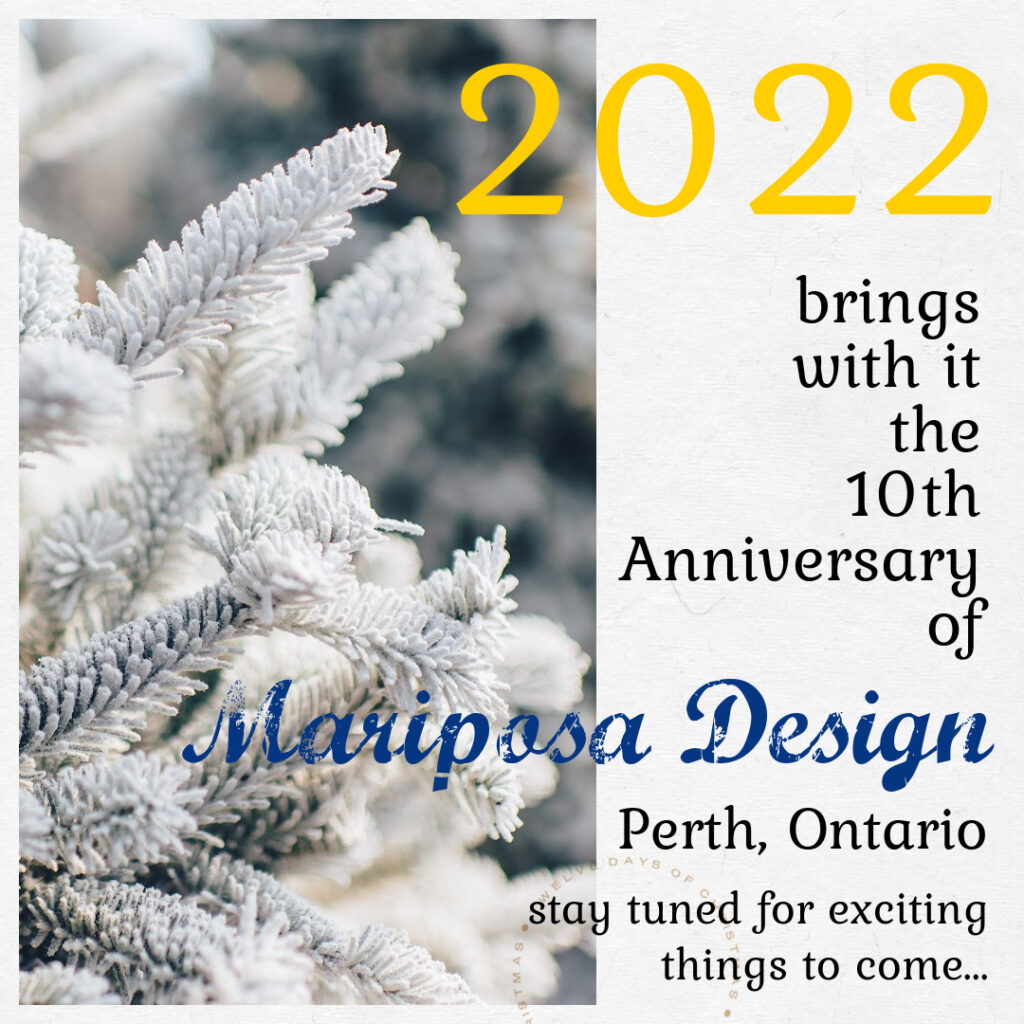 January is a busy month and the start of an exciting year for Mariposa Design!  Stay tuned…..

Note: we are returning to regular business hours for our "bricks & mortar" shoppe (until approx. Easter) – they are:

Monday to Friday – 9:30 am to 5:30 pm.
Saturday – 10 am to 5 pm.
Sunday – 11 am to 4 pm.

As always, I remain sincerely grateful for your support & encouragement!!  
My best wishes to you and yours for a Happy & Healthy New Year!

~ Susan