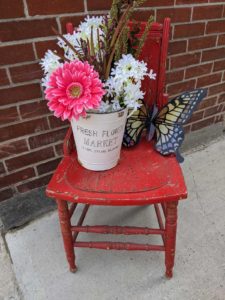 'From the Sunroom' is a place where I will share from monthly… a short story, a tip for your home or cottage, poem or favourite quote… 
As you turn the calendar to May, let the thought of flowers adorn your mind and put a smile on your face.  "The Earth Laughs in Flowers" is a favourite quote of mine, by Ralph Waldo Emerson.  We can all use a pick me up and adding flowers is sure to accomplish that!
If you live in an apartment or condo, consider something fun and colourful on your door.  Perhaps you have a small patio where you can place a pot or two of beautiful flowers. 
If your home has a front porch or veranda, be sure to dress it up for spring too!  One of my favourite things is an old vintage chair!  If you have one kicking around, paint it with the brightest colour of paint you can find! 
This month, give yourself a pop of beauty & colour!  It doesn't have to be elaborate or cost a lot of money.  Be creative and go with whatever inspires you and makes you smile!
~Susan